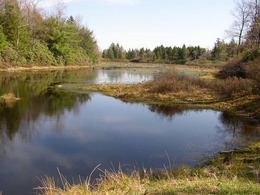 The Tobyhanna Creek/Tunkhannock Creek Watershed Association (TC/TCWA) is a non-profit corporation dedicated to preserving the waters, wetlands and wildlife within our 125 square mile watershed in northeast Pennsylvania since 1991. We inform the public about water quality issues and monitor our lakes and streams for indications of degradation or pollution.

We hold our monthly meetings the 3rd Tuesday of every month beginning at 7 PM at The Nature Conservancy building on Long Pond Road. The Nature Conservancy is located next to the Tunkhannock Township Municipal Building and U.S. Post Office. Visit TNC's website for directions.

Approximately 250 members support us with dues, special contributions and volunteer work. Basic annual dues are $20 for a single membership and $30 for a family membership. Information on other membership categories can be found on the Participate Page. All dues and contributions are used to support our education, stream monitoring and communications programs.

We are very fortunate to have waters that are presently classified as either High Quality Cold Water Fisheries or Exceptional Value Fisheries by the Pennsylvania Department of Environmental Protection. These are the two highest ratings offered by PADEP and provide our water with a measure of legal protection. The watershed contains such unusual and diversified wetlands that The Nature Conservancy has classified us as one of the "Last Great Places" on earth.

We hope this website will prove useful and informative, whether you are a neighbor or a distant visitor. High quality water is a valuable and limited resource. Once degraded it cannot be easily reclaimed. We all need and use water which means we have a responsibility to be good stewards of it.
After all, everyone lives downstream from somebody.
Larry Gould
TC/TCWA President
2018 Meeting Schedule

(7:00 PM at TNC)


January 23

February 20


March 20

April 17


May 15


June 19

July 17
August 21


September 18

October 16


November 20

December No Meeting

What's New

Adopt-A-Highway

Litter Clean Up

Spring 2018

Saturday, April 21, 2018

10:00 AM - 12:00 Noon

Call 570-646-5206

for directions

We will meet at the parking

lot by Kistler Run on

Route 423